The exhibition kicks off in the 1970s, when Harari, still a teenager, began to combine his two great passions: music and photography. Previously never before seen images and sequences, along with vintage videos and interviews, as well as the Sky Arte documentary, take the visitor to the heart of the creative process. The audio guide too with Harari's own narrative will provide clues and stories to the images.
1. LIGHT MY FIRE. BIG BANG OF A PASSION
Visitors are welcomed by an idealized recreation of teenage Harari's room, chock full of the iconography that inspired him in his formative years: posters, photos, vintage magazines, diary pages, record covers, autographs and memorabilia.
2. ACCESS ALL AREAS
A privileged insider look into the dynamics of touring with his favorite stars looking for that intimacy that Harari would soon achieve moving on to portraits of such artists as: Fabrizio De André, Paolo Conte, Lou Reed, Peter Gabriel, Kate Bush, Vinicio Capossela, Vasco Rossi, Claudio Baglioni, Gianna Nannini, Frank Zappa and more.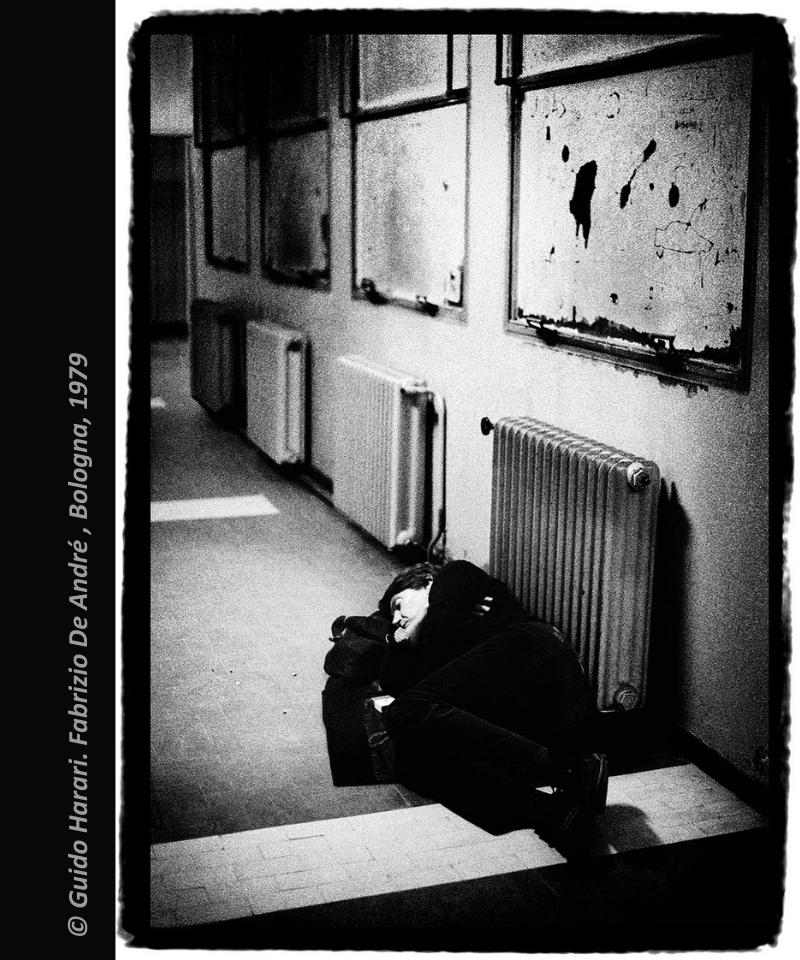 3. FRONT OF THE STAGE
The stage and the live performance as sources of revelations and kinetic melodies, from Bowie to Queen, Dylan to Lou Reed, Queen, Springsteen, Bob Marley, Pink Floyd, McCartney, Rolling Stones, Miles Davis, Neil Young, Clash, Led Zeppelin, Prince, Police, Talking Heads, Michael Jackson, Stevie Wonder, James Brown, Nirvana, Simon & Garfunkel, Santana, Giorgio Gaber, Ray Charles, Tina Turner and many others.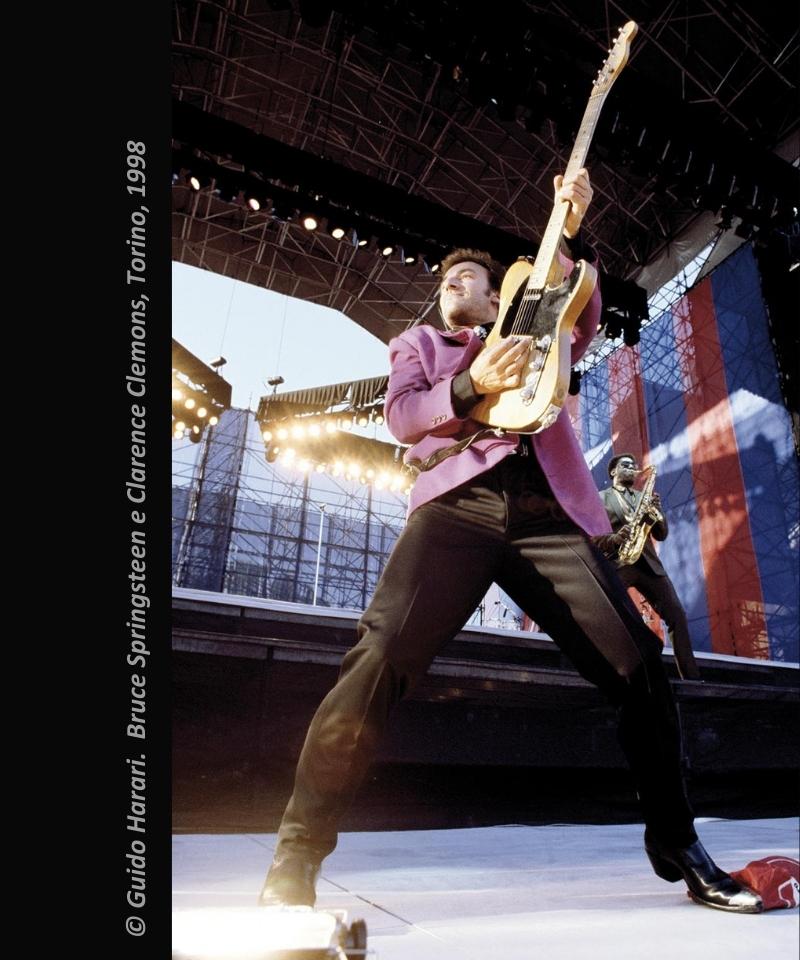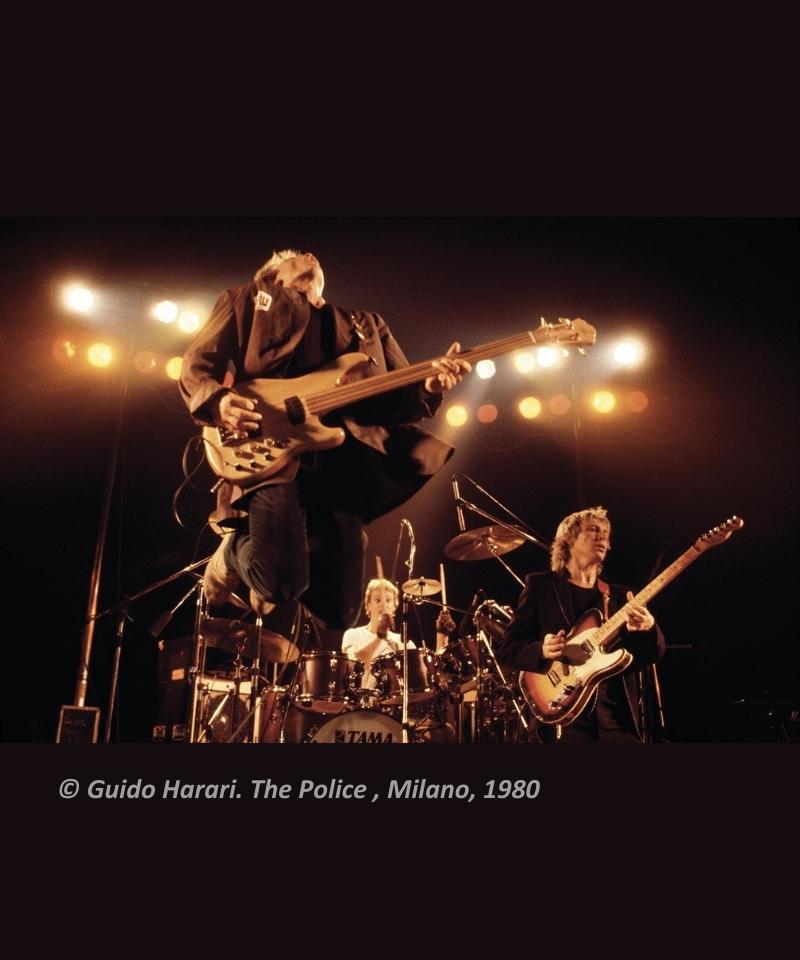 4. WOODSTOCK'94. THE COMET'S TAIL
What is left of the musical utopia of the 1960s in an intense reportage on the 25th anniversary festival. The audience here takes centre stage.
5. SEE ME, FEEL ME. A NEW COMPLICITY
Harari gets closer and closer to his objects of affection with his most intimate portraits: Tom Waits, Lou Reed and Laurie Anderson, Jeff Buckley, George Harrison, Keith Richards, Patti Smith, Bob Dylan, B.B. King, Frank Zappa, Van Morrison, Bob Marley, Eric Clapton, Elton John, Kate Bush, Clash, Joni Mitchell, Leonard Cohen, Philip Glass, Peter Gabriel, Nick Cave, George Michael, R.E.M., Iggy Pop, Paolo Conte, Battiato, De André, Vinicio Capossela, Vasco Rossi, Battiato, Morgan, Litfiba, Giorgio Gaber, Milva, Mia Martini, Enzo Jannacci, Pino Daniele, Lucio Dalla, Ivano Fossati, De Gregori, Zucchero, Guccini, Ezio Bosso and many others.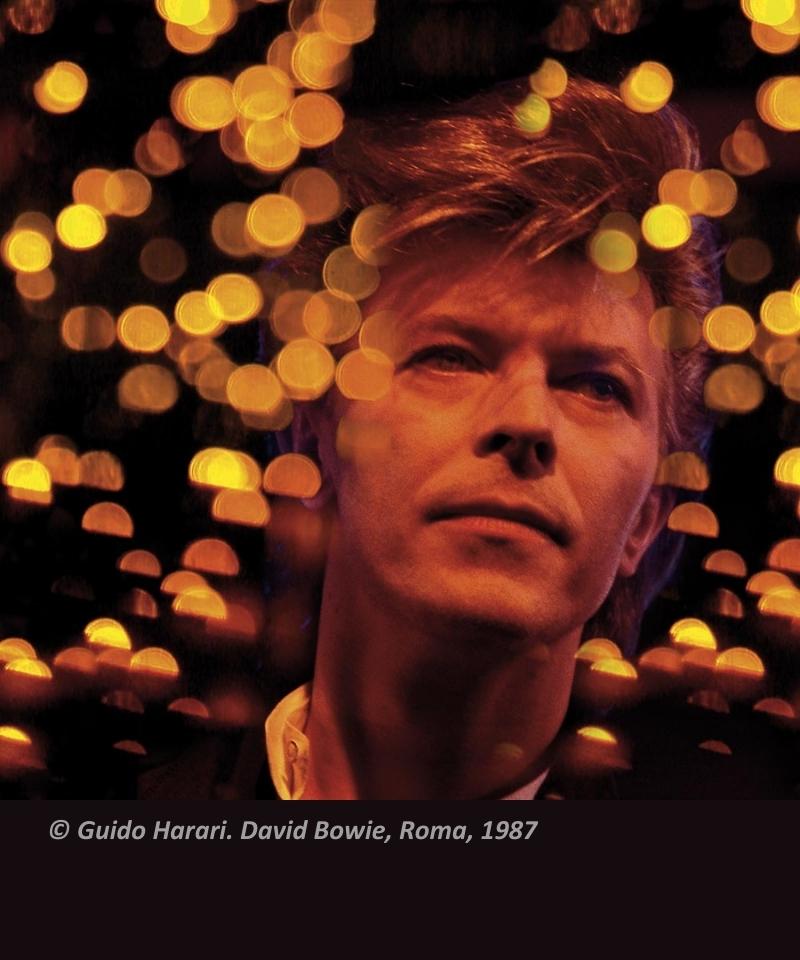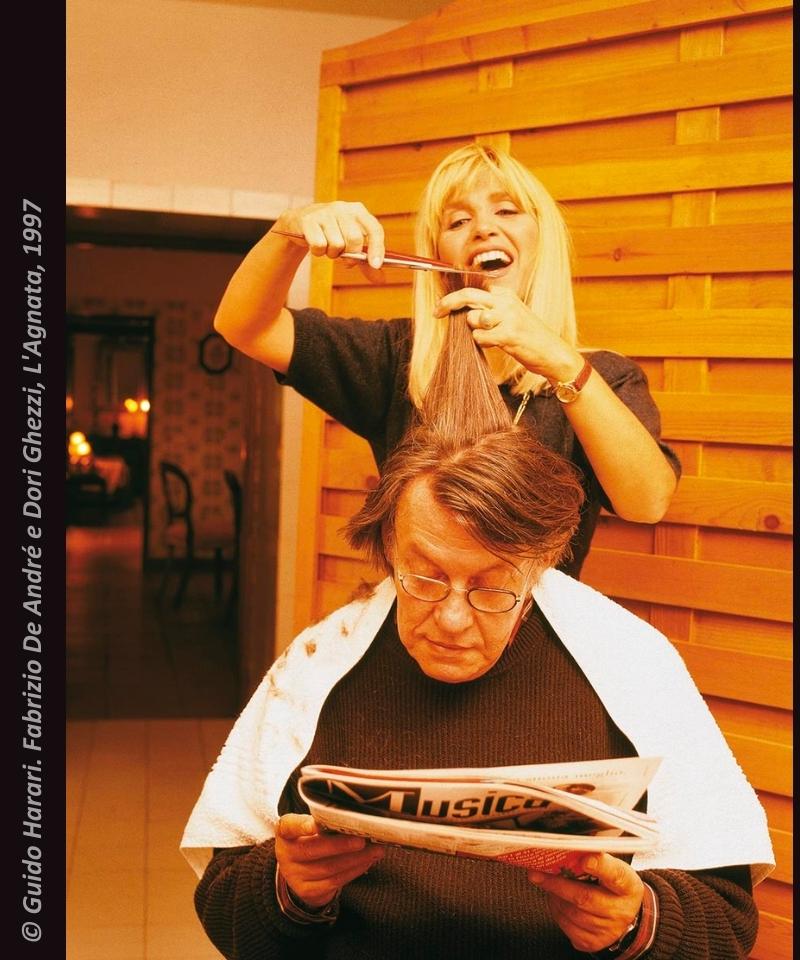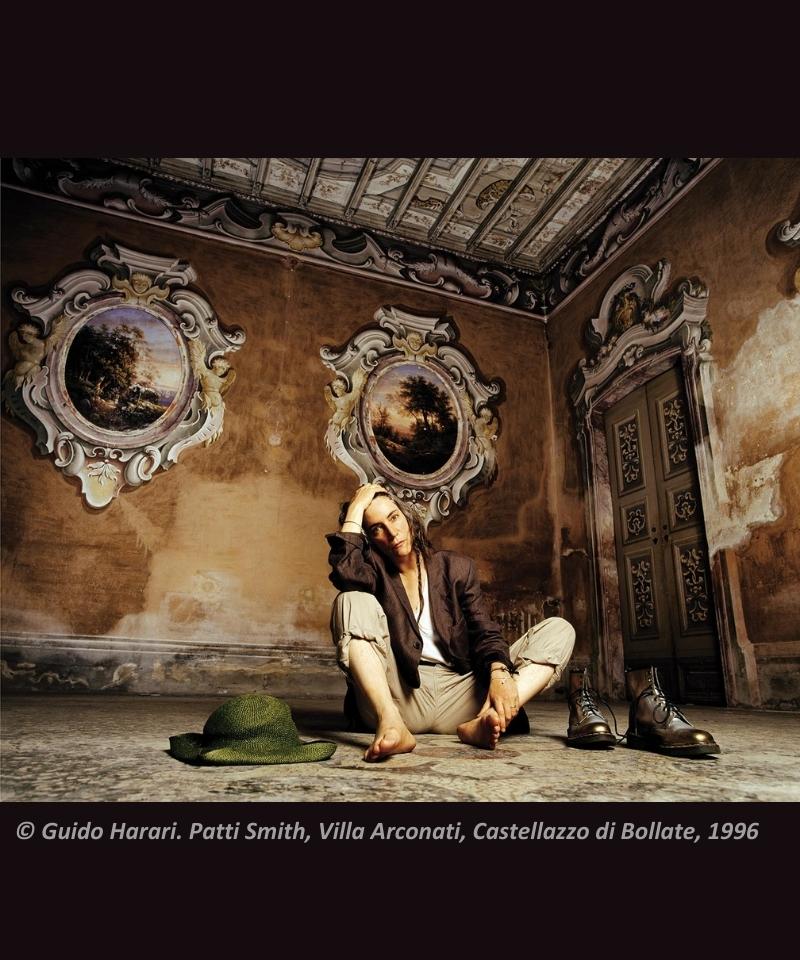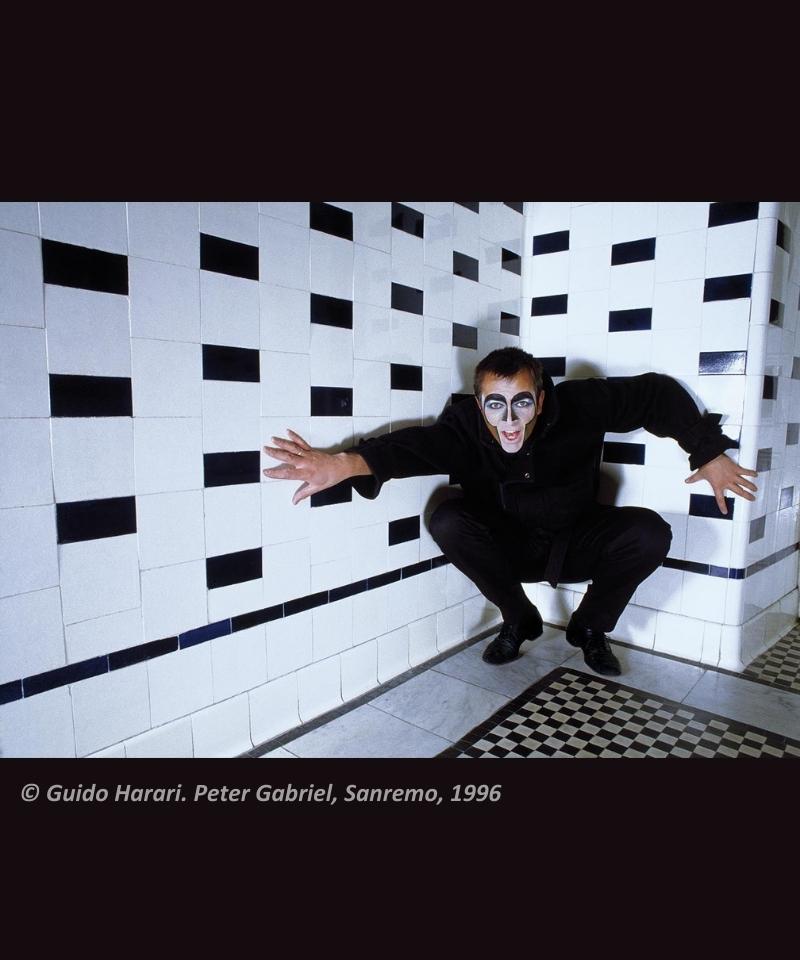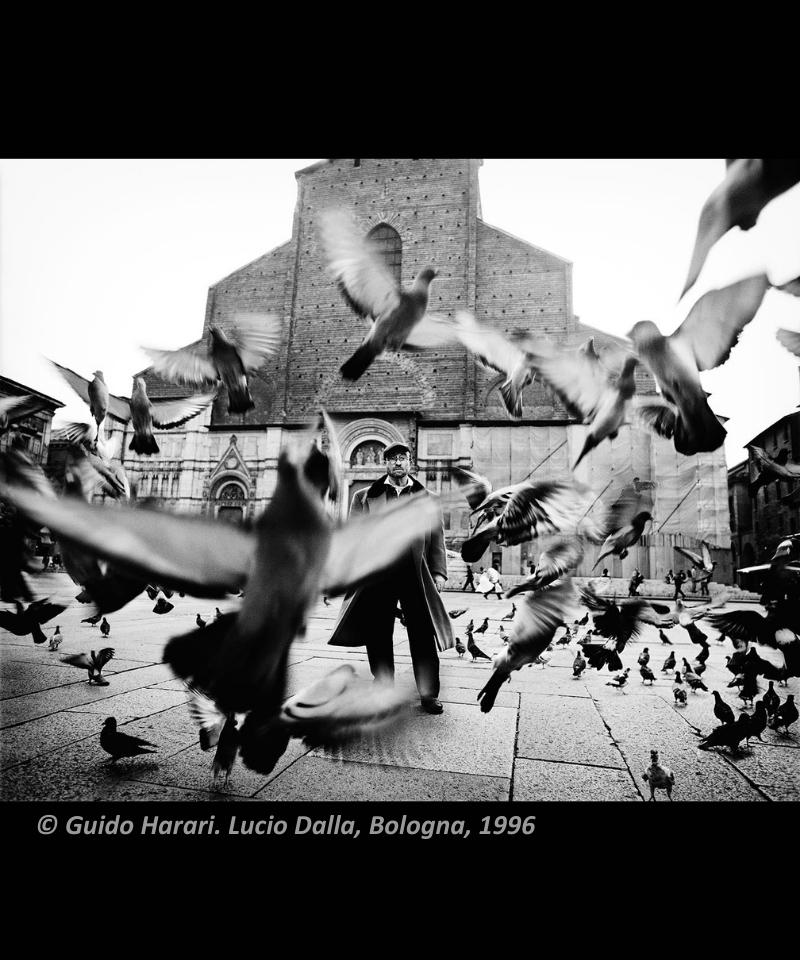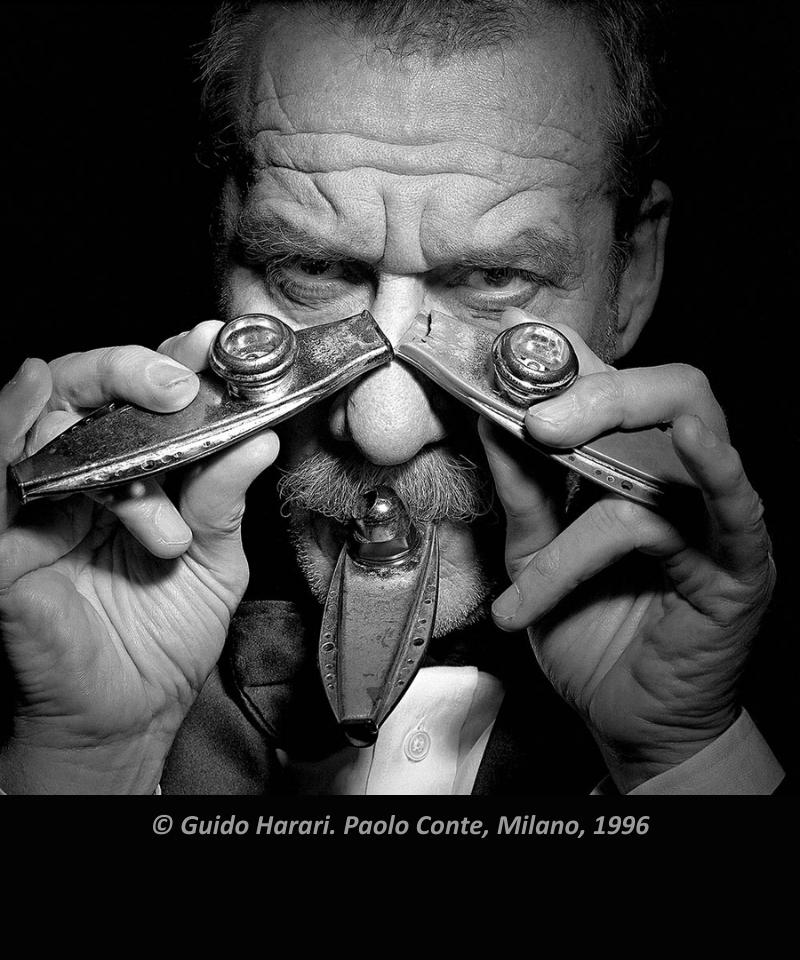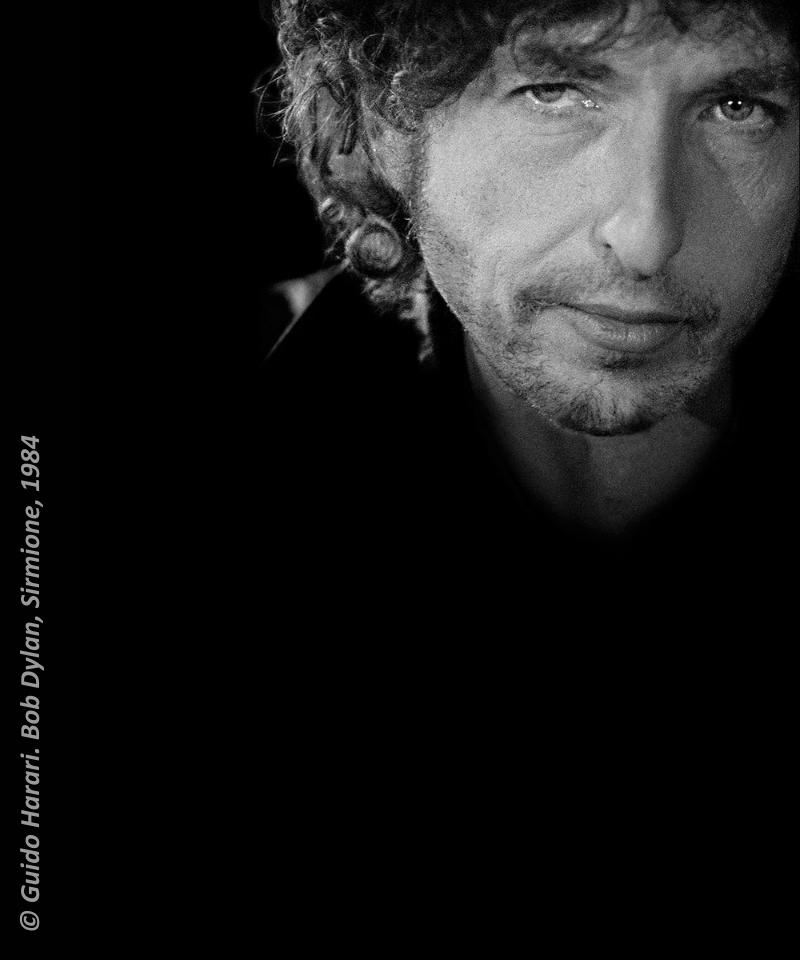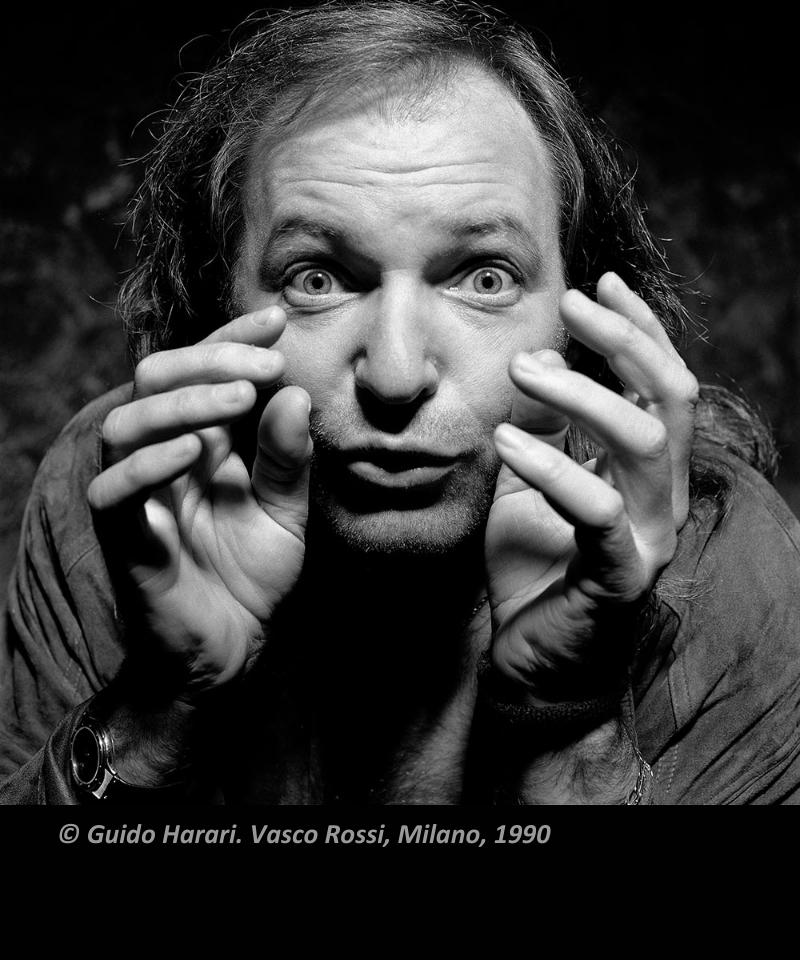 6. PORTRAIT AS ENCOUNTER
Moving on beyond music, exploring new interests: Long acquaintances and one-off collisions: José Saramago, Wim Wenders, Richard Gere, Pina Bausch, Greta Thunberg, Luis Sepulveda, Zygmunt Bauman, Allen Ginsberg, Hanna Schygulla, Lindsay Kemp, Daniel Ezralow, Alejandro Jodorowsky, Mikhail Baryshnikov, Richard Avedon, Sebastiao Salgado, Helmut Newton, Frank O. Gehry, Robert Altman, Mother Teresa and many others.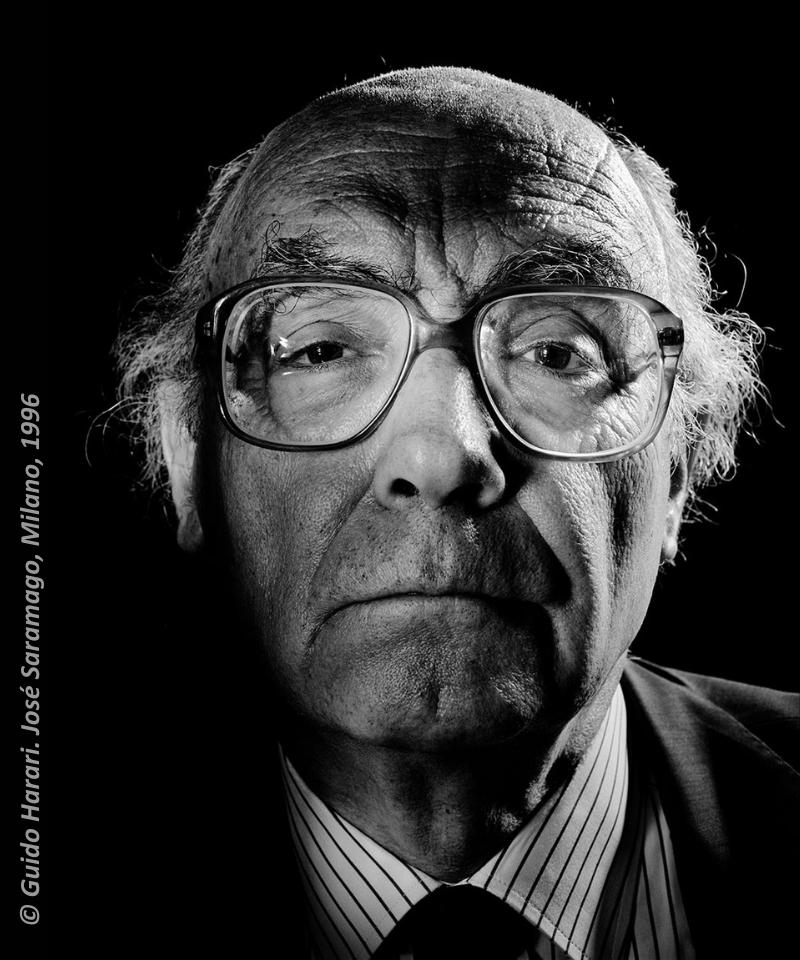 7. ITALIANS
Just before 2000, Harari captures an impressive collection of major personalities of Italian  culture and society, photographed as if they were all rock stars, from Gianni Agnelli to Rita Levi Montalcini, Ennio Morricone, Nanni Moretti, Roberto Benigni, Umberto Eco, Michelangelo Antonioni, Dario Fo and Franca Rame, Bernardo Bertolucci, Carmelo Bene, Roberto Baggio, Ettore Sottsass, Renzo Piano, Carla Fracci, Vittorio Gassman, Lina Wertmuller, Monica Vitti, Gino Strada, Luciano Pavarotti, Sophia Loren, Giorgio Armani, Carla Fracci, Margherita Hack, Alda Merini, Marcello Mastroianni, Enzo Biagi, Miuccia Prada, Toni Servillo and many others.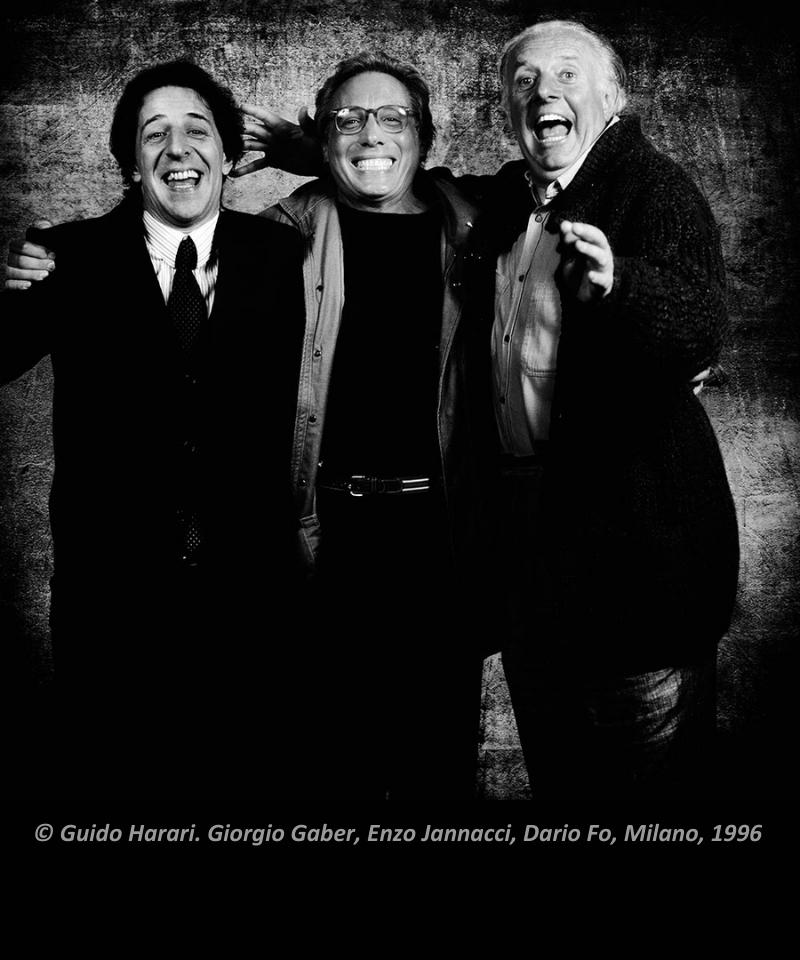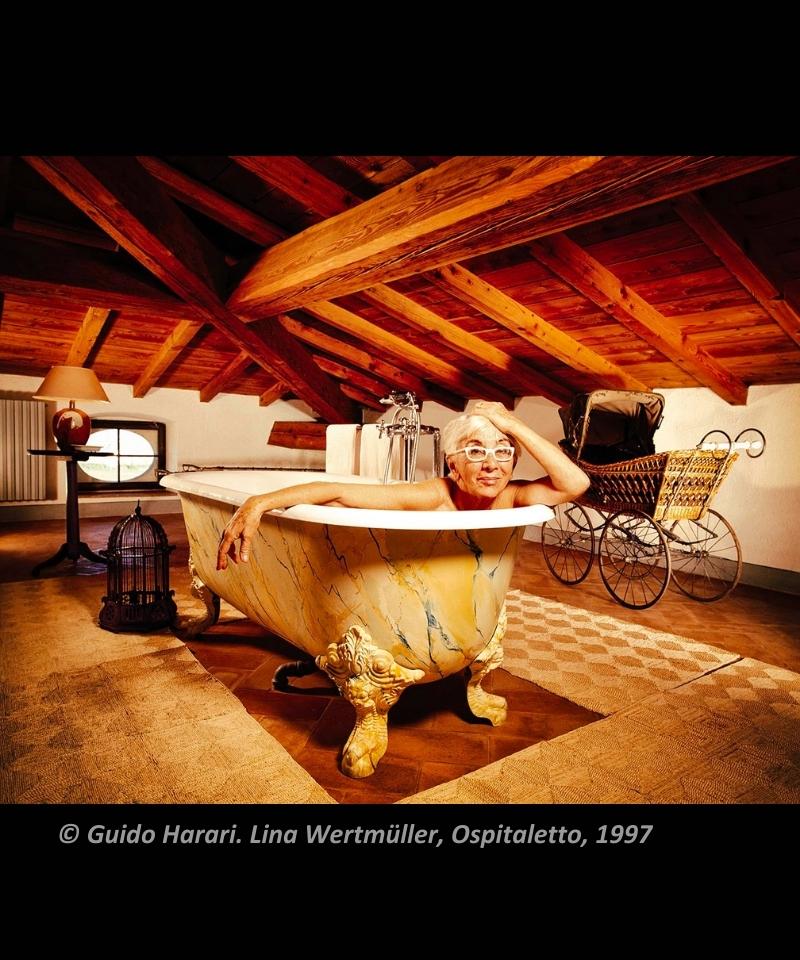 8. REMAIN IN LIGHT. THE PHOTOGRAPHERS
Some of the great photographers who have inspired Harari, captured in portraits that emerge from darkness, almost exorcising it: Duane Michals, Richard Avedon, Sebastiao Salgado, Helmut Newton, Paolo Pellegrin, Steve McCurry, Letizia Battaglia, Ferdinando Scianna, Nino Migliori, Gianni Berengo Gardin and Mario Giacomelli.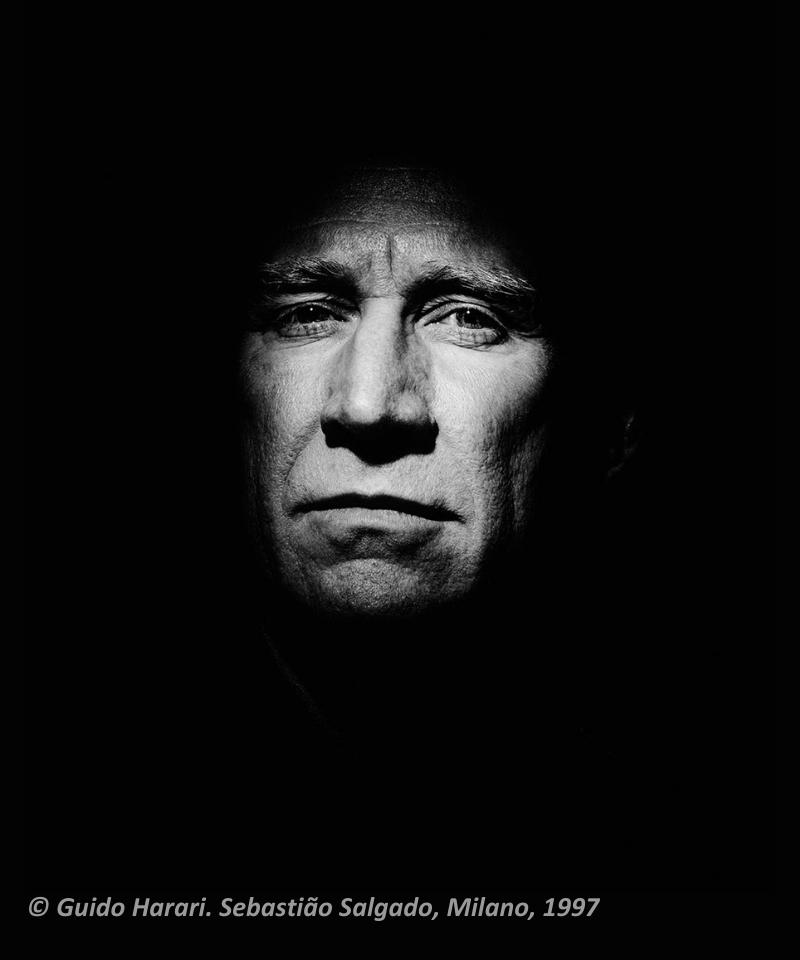 9. TAKING PHOTOS WITHOUT A CAMERA
A parallel passion: designing and curating books, editing texts, documents and photographs salvaging and restoring forgotten archives, graphic design as an essential element of storytelling, books as opportunities for old and new encounters. The illustrated biographies of Fabrizio De André, Fernanda Pivano, Mia Martini, Giorgio Gaber and Pier Paolo Pasolini, featuring spreads from the books and video projections with previously unseen footage of Harari at work with Fernanda Pivano and at the Pasolini Archive.
10. IN SEARCH OF AN ELSEWHERE
Antidotes to the rituals of commercial photography and celebrity portraits: reportage photoS, and recent experiments, in search of new photographic languages.
11. CAVERNA MAGICA
In the final room of the exhibition visitors will find a photo set where, on specific days with advance booking,  they can have their portraits taken by Harari. These portraits will be hung in real time in the same room, thus becoming an exhibition within the exhibition.